Kerman's 23rd Annual Night Christmas Parade!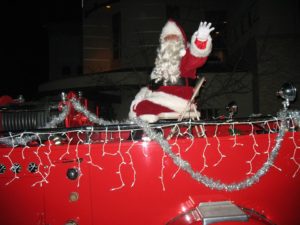 Theme: "Country Christmas"
Event Dates:
December 14th, 2019 @ 6:00pm
Parade Entry Form: Download
Holiday Event Flyer: Download
Description:
"Country Christmas" is the Pageantry of Lights Christmas Parade theme for Saturday, December 14th at 6:00 p.m. in downtown Kerman. The parade route is Madera Avenue, "C" Street to "G" Street. Announcer's table located in front of the Kerman Chamber of Commerce Office, 783 S. Madera Avenue.
Come to the parade and welcome Santa Claus to Kerman! It's a fun evening of sparkling lights and smiling faces.
HOLIDAY GIFT FAIR – Saturday, December 14th
A Holiday Gift Fair will be held on Saturday, December 14th in the parking lot located at Madera and "C" Street in Kerman starting at 4:00 p.m.  Crafts, gifts, food and more; come, browse and do some holiday shopping in Kerman and stay for the Christmas Parade. For application please email request to kparade1@sebastiancorp.net.